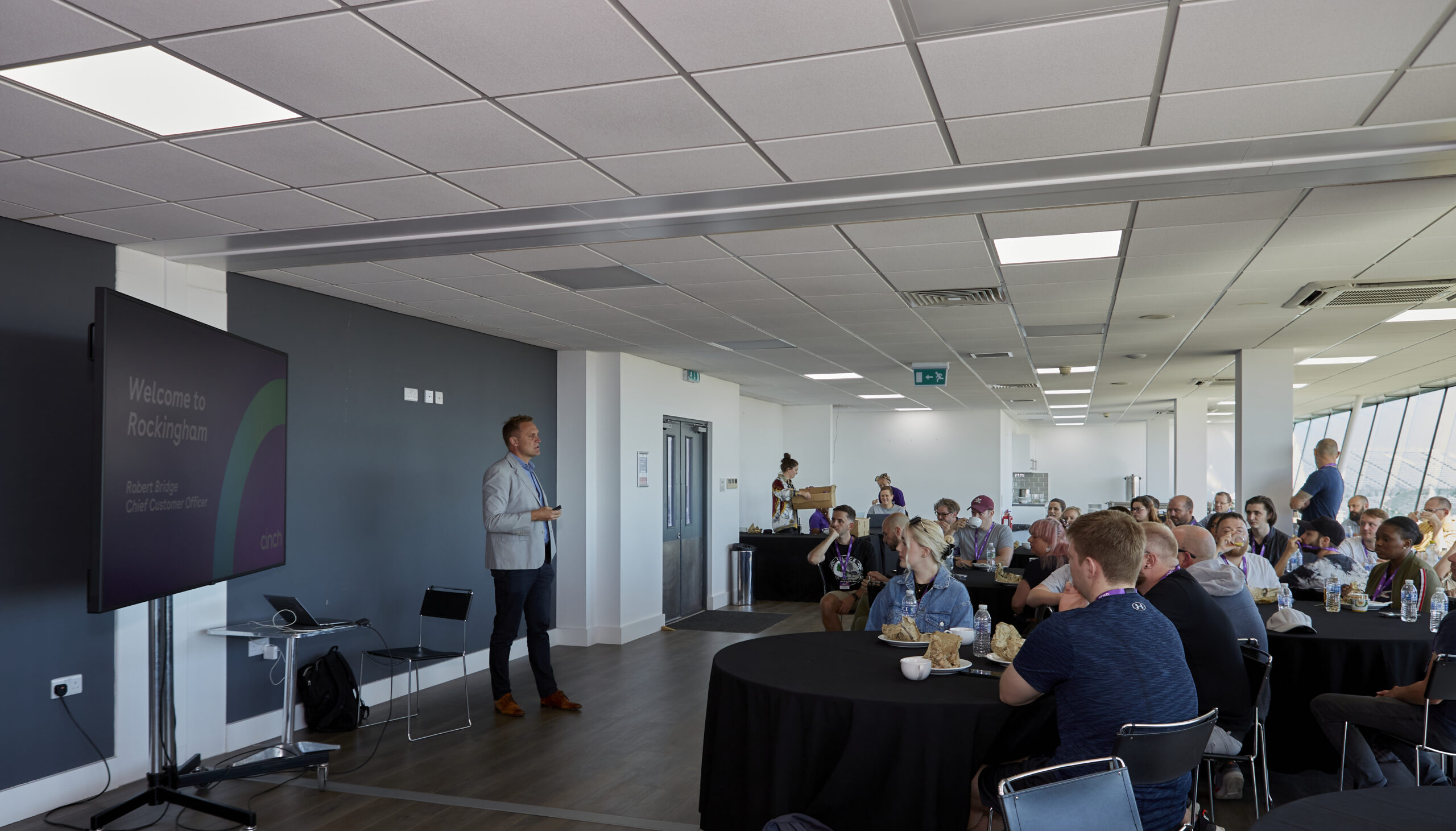 Getting up to speed with a day at Rockingham!
December 20, 2022
Gemma Prince, Talent Acquisition Specialist.
You don't have to know everything about cars to enjoy working at cinch. If you've got the right attitude, our Onboarding Days at Rockingham Speed Course will soon get you up to speed! Here's how it was for one new joiner…
Why did I join cinch? Well, to be honest, it wasn't because I'm really into cars. Because I'm totally not!
So, you can imagine my reaction when they told me that part of my induction to the business was going to be a day out at Rockingham Speed Course! Things that make you go, 'hmmmm!' Do I actually have to race cars? Or repair one? Yikes!
The Start:
cinch bought Rockingham Speed Course in 2021, because they were growing so fast. With car buying, comes car storage… and where better to keep your stock than on a former racetrack? Apart from that a lot of cars, I really wasn't sure what to expect. I was looking forward to meeting some new people but getting a close-up view of cars being repaired – massively not for me!
Our morning started well – with a lovely bacon sandwich. Talk about starting off on the right track. Then there was an introduction to Rockingham from Robert Bridge. Who knew the fastest lap here was done in less that 25 seconds (1.48 miles!)? We also got a good view of future plans for cinch. Straight away, I was starting to see how it all comes together and being at Rockingham began to make sense. It's not often you get to look behind the scenes and see how the business works beyond your own desk and department.
Looking ahead:
After that, we started to get a look around. Half of the group spent the morning visiting the nearby refurb centre in Corby. This is where the magic happens! Cars are checked over, on more than 200 points, dents and marks are magic-ed away and cars good enough for cinch then have their moment in the spotlight – the 360 stage. Now I'm not car fanatic, but it is pretty amazing to see the fixer uppers getting those cars into tip-top condition.
While the polishing takes place in Corby, the other half of our group headed over the grid. It's race time! Lined up on the grid, 6 Electric and Hybrid Vehicles, waiting to show us just what they can do. It's really great to have the opportunity to drive EV cars that are starting to become popular in this market. It's not often you get to get out of a Tesla Series 3, into a Prius, followed by a Lexus. Mind you, for some of us (and I'm not saying it was me, ok?) opening the doors was just as hard as starting the engine.
cinch is going to be selling a lot of EV and Hybrid cars over the next decade. So as well as racing, it's also just a really good chance to learn all about them. Content Guru Sam took us through the whole EV car industry, the biggest players, the changes coming through and this is so important for our climate, our roads and our road users. Perfect.
Looking back:
I enjoyed the day so much more than I imagined. No need to panic, the driving was fun and if you don't drive the passenger experience was even more fun! I picked up a lot of really good learnings during the day. I learned a lot about the car industry and about cinch. I can see where my role and my team fit in. I met a lot of lovely people who were just joining, and who were just as nervous and excited as me.
Best of all, I feel like I'm part of a company that's going in the right direction. There's a lot to understand about cinch – about the cars, the technology, the market, the vision – and Rockingham Speed Course is a great place to start.